An exhibition of animal love, learning, joy and creation!
As part of the 12th International Exhibition "Zootechnia 2023", the successful "Pet Festival" section continues (from 3 to 5 February 2023), which will give visitors, trainers and friends of all companion animals the opportunity to learn about various lessons of coexisting with little friends. It will take place in Pavilions 5 and 6 with the following program:
In Pavilion 5, from Friday 3rd to Sunday 5th February 2023, visitors will have the opportunity to watch the 3-part dog morphology exhibition organized by the Canine Club of Thessaloniki. Also visitors will get the chance to meet the special sections for aquariums, terrariums and birds while they learn and ask questions about training, nutrition and health of companion animals in the "Knowledge Amphitheatre" section.
In Pavilion 6, which will be open on Saturday 4 and Sunday 5 February 2023, visitors will be able to watch the 2-part exhibition of cat morphology, one of the few times it will take place in Thessaloniki. These exhibitions are organized by the Hellenic Feline Federation.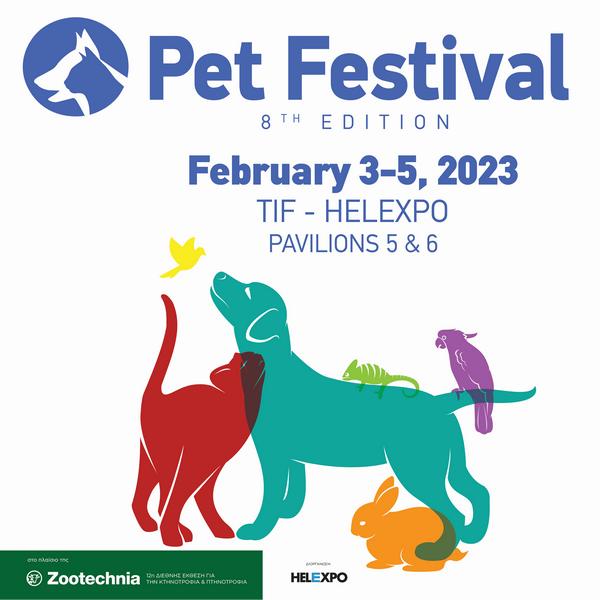 In all areas of the "Pet Festival", guests will meet professionals, who on their part will be presenting and recommending the most modern services with the best quality products. They will be informed about smart and educational accessories, toys, care and grooming services, dog and cat hotels, but also many other info that can upgrade the life quality of a small "house" friend, feathered or fluffy, by making it more pleasant and easy.
Attendees of the Pet Festival will also be able to communicate with experts about their specialized needs, gather valuable information, take part in original competitions and win various prizes.